Coaching & Sparring
How can I develop my effectiveness as a leader?
How can I increase my confidence when faced with having to make important decisions?
How do I handle challenging situations?
We provide support for challenging situations by bringing a fresh pair of eyes from the outside, new perspectives and solutions, tailored to your individual situation.

Topics frequently addressed during coaching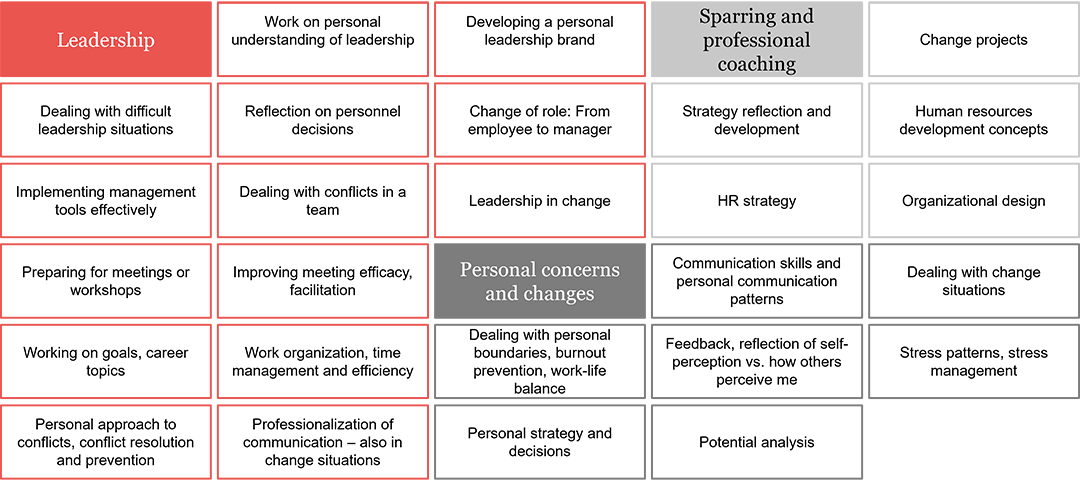 Approach
When it comes to coaching, we support you in achieving your own goals and in systematically using and activating your resources and your potential.
As coaching is always an individual process, there is no standard approach - which is why effectiveness has priority over method when it comes to choosing coaching techniques.
5P coaches therefore make use of a broad repertoire of methods, which are deployed to suit the situation and the issue at hand. These methods include systemic approaches, structural constellations, hypnosystemic approaches, the Zurich Resource Model, body-oriented techniques, role play exercises, the integration of feedback processes and video analysis.
Together with the person being coached, 5P coaches use analytical tools as and when required in order to support or intensify the process of reflection and to develop ideas for specific approaches to implementation (e.g., IMDE Talent Developer, PSI/Top Diagnostics).
Typical 5P coaching – Formats and offers
Individual Coaching
One-on-one coaching on customized issues
Duration of the individual coaching sessions by agreement (about 60 - 90 minutes)

Sparring on specific cases / professional sparring

Duration by agreement (e.g., 90/120 minutes)

We are happy to integrate elements of consulting into our coaching sessions if required

Best self coaching

A coaching process focused on strengths, fusing the conscious and subconscious, which makes it more likely to implement inherent strengths in everyday life

The goal is to live those inherent strengths more, to provide added value for ourselves and those around us

8 coaching units with integrated feedback process

Online coaching

One-on-one coaching and sparring session for specific situations, can also be carried out virtually (30-90 minutes)

Coaching2Go

A 5P coach is at the disposal of executives from your organisation at scheduled times. The executives can register up to 5 days prior to the appointment - this is particularly useful when they have very specific concerns or want to familiarize themselves with coaching as a tool

Shadowing
5P coaches accompany you for an entire day and will reflect on the impact you have in your organisation and potential steps for development with you
Group Coaching
Conflict coaching

Collaborative process with everyone involved

(4-10 units of 60 minutes each), prior interviews

Team coaching in challenging times

Strengthening resilience in the team, identifying stress patterns, and finding individual and collective solutions

(2 half days, integration of analysis tools for dealing with stress/self-management if applicable)

Organisation
Coaching pool

5P provides a pool of coaches to the company

Coaching contingents

As part of development programs
Graphic: 5P Coaching offers
Discover more topics that may interest you: