Development & Assessment Centers
How can we design assessment or development centers to provide diverse and relevant insights for everyone involved?
How can we create the basis for development programs that provide participants with individualised and targeted support?
What are the key factors in designing development centers so that participants perceive them as supportive, intensive learning settings?
When are virtual ACs or DCs the ideal format, when is a face-to-face event appropriate, which hybrid elements make sense?
Assessment Center (AC)
Making the right personnel decisions - an optimal combination of relevant personal, social, entrepreneurial, leadership and management competencies, as well as suitability for a particular position - is critical to the success of any business. Incorrect personnel decisions can be time-consuming and costly, and can lead to losses in productivity, declining work motivation and a poor image on the labor market. ­

In most cases, an assessment center is the most effective method for selecting the best candidates for open positions.
Development Center (DC)
Although DCs outwardly resemble ACs, they follow a different logic. DCs are development tools; they serve to provide a situation analysis for managers and employees in order to identify competencies, strengths and areas for development, to reflect on them and to try out new things. Feedback and reflection are key elements and make the DC an intensive learning experience for everyone involved, for participants and observers alike.
Topics
AC participants complete a set of tasks that reflect the challenges that are characteristic of the subsequent target position and, above all, critical to success. Typical elements are:
Conversational situations - e.g. meetings with employees, coordination meetings, negotiations

Meetings - for decision making, opinion forming, joint development

Strategic or operational conceptual tasks

Presentations

Case studies

Q&A sessions

In-depth interviews

Personality and competence analysis tools
Systemic Behavioral Diagnostics
5P's approach is based on behavioral diagnostics, which provide the highest quality of prognosis and targeted approaches to individual development, and combines these with systemic elements to optimise the impact for organisations.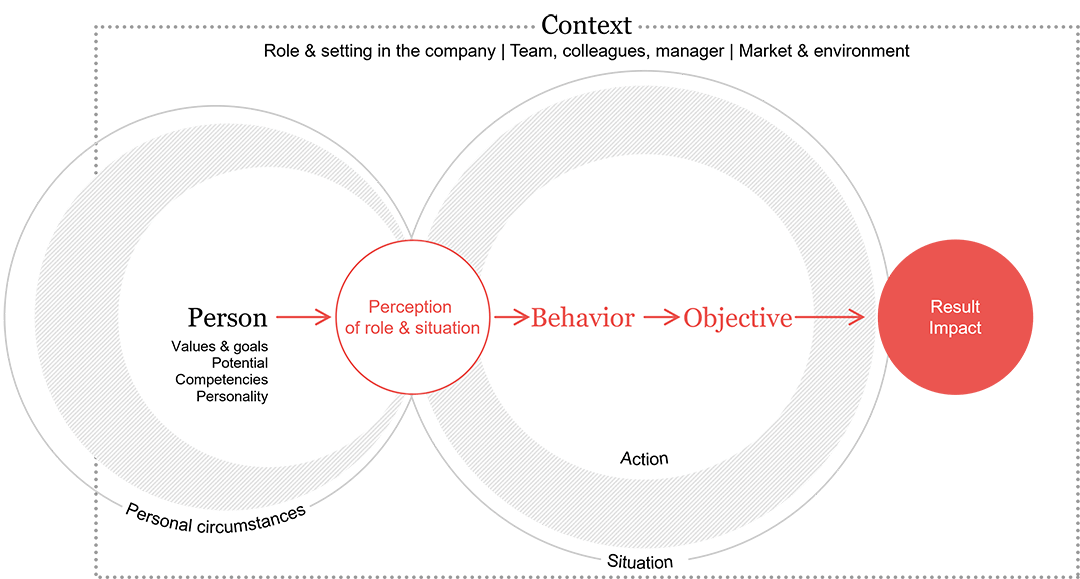 Success factors in the process of conception and implementation
1. Define goals and impacts

Interviews to identify desired outcomes and impacts, requirements and critical incidents, i.e. those everyday situations that are crucial to be effective in the respective function/role in the culture of the company and the organisational unit.

These results are combined with available information such as competence profiles, function/role descriptions, existing analysis formats such as employee surveys or 360° feedback.
2. Design the process

Communication around ACs/DCs is an important aspect of the candidate experience for external applicants - and equally sensitive for internal participants. It requires special attention, transparency and clarification of expectations.

In our ACs/DCs, we take great care to ensure that all participants - regardless of the decision made - also experience their participation as an event with added value - through joint reflection and detailed, clear and constructive feedback directly after each observed sequence. Together with you, we design the AC/DC in line with your employer brand.
3. Situations relevant for success as the conceptual basis

The more accurately the tasks reflect typical situations, the higher the degree of acceptance and relevance for the company and the applicants, who are equally in the position of needing to make a decision.

We design the situations in such a way that they are most likely to reveal competencies. Ideally, we develop the setup in co-creation to ensure that it reflects the specifics of the company as accurately as possible in the details and wording.
4. Combine expertise

Ideal results are achieved by combining internal observers with an external perspective. It is helpful to provide internal observers with some initial training to prepare them for their role in the AC/DC - to familiarise themselves with the tasks, to focus on observing the relevant competencies, to raise awareness for observation errors, to agree on the procedure and principles of the observers' conference.

A combination of internal observers paired with an external perspective produces ideal results. It is helpful to provide the internal observers with some initial training to prepare them for their role in the AC/DC: to familiarise themselves with the tasks, focus on observing the relevant competencies, raise awareness for observation errors, agree on the procedure and principles of the observers' conference.
5. Briefing the participants

In general, and especially when using virtual formats, it is important to hold a briefing in advance in order to familiarise the participants with the process, to answer any questions they may have, and to ensure that they are comfortable with the general conditions.
6. Digital format

For target groups that are used to working together digitally in everyday life, carrying out an assessment digitally, in part or as a whole, is an interesting alternative.

This is often a question of pragmatic considerations, especially the reduction of travel times and costs for participants and observers.

In digital formats, however, perception is reduced, the relevance for non-virtual situations is lower, and some participants tend to be more reticent.

Carrying out an AC/DC virtually does actually offer diagnostic advantages. It is much easier to integrate realistic clients from top management or various sparring partners from the company into an AC/DC for shorter virtual sequences than to invite them to a venue. The observers are less visible during the dialogs and, for training purposes, they can agree to record sequences in high quality and use them for later purposes.
7. Focusing on strengths and feedback

A certain amount of tension is unavoidable during an assessment. The more open and trusting the atmosphere is, the better competencies and potential can be assessed. The prerequisite for this is an understanding approach that focuses on strengths instead of a critical test culture.

In contrast to many other methods, we already emphasise the importance of feedback and reflection during the assessment itself and adaptively supplement the tasks as needed.
8. Observers' conference

The second, often equally important element of an assessment center is the observers' conference, in which observations and impressions are exchanged, competencies are assessed, decisions are made, and development and leadership recommendations are discussed. Here, not only are the individual results summarised, but an overall picture is developed, made up of a combination of all the observers' impressions and perspectives.
9. Clear statements and a high level of direct benefit

We summarise the results in a report that is 100% transparent for the participants.

Decisions on filling a position or, for example, participation in a talent program, are communicated internally by HR or the direct manager. In addition, the participants are invited to a feedback and development meeting based on the report.
10. Make use of findings

Every AC or DC provides a multitude of insights - for the participants preparing for a new position based on the results, for all others as a source for personal development planning and feedback for their current role.

For all internal participants, it is important to use the insights gained for concrete development measures, especially for rejected potential candidates.

In addition, insights are always gained for the organisation - about patterns that frequently occur, strengths and weaknesses that are independent of individuals, and the possible reasons behind them, e.g. with regard to role design, recruiting, talent processes, diversity, and leadership.
Wide range of applications
DCs/ACs are an increasingly indispensable, versatile tool for talent & succession management, leadership development, recruiting, internal staffing and change management. They enable, among other things:
the highest degree of decision-making quality in the appointment of external candidates
transparent, comprehensible internal appointments, including in change situations
sound career decisions and nominations for development programs
an overview for the company of existing leadership resources in the company
management positions to be filled internally in a timely manner
individual situation analysis and development planning
targeted, individual management development
identification of high potentials for agile leadership roles, project management, expert or leadership careers
Discover more topics that may interest you: