Talent Identification
Are we familiar with the competencies that employees require in order to lead our company to success?
And do we know which employees have the potential to develop them?
We develop processes that make your talents visible. Together with you, we identify those people in your company who have the potential to develop the competencies that are crucial for the future success of your company. As diagnostic experts, we make clear assessments of potential, impact and development and initiate development processes for your talents and thus for your company. The executives in the company play a key role in this process: with the help of suitable tools and processes, they are an integral part of talent scouting.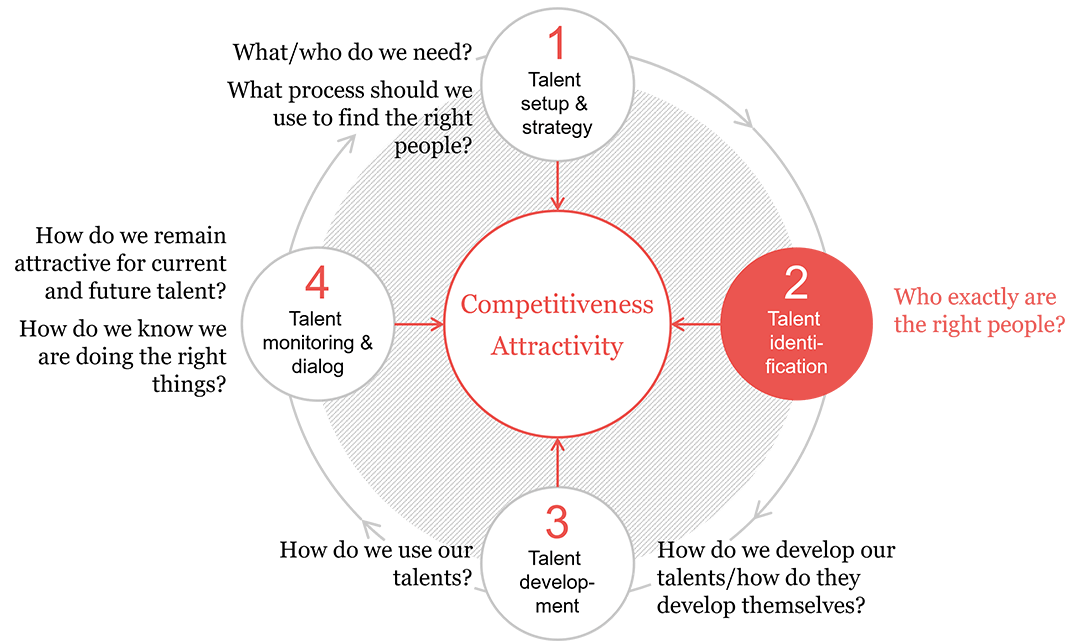 Approach
Identifying talent in your organisation is a mission-critical process to leverage the potential of your employees and promote a culture of innovation, growth and development. This can be accomplished in six steps:
1. Talent Definition

Work with us to define what talent means for your organisation. Which competencies, behaviors and effects are particularly important for the current and future development of your organisation?
2. Performance Cycle as the Basis

Look for individuals who consistently excel in their current roles. High performers who regularly exceed expectations are often good indicators of talent. We will work with you on honing your ability to recognise them.
3. Dimensions of Performance

Observe how people work in teams. Focus not only on individual performance, but also on the way people collaborate in a team. We will support you in focusing on all relevant dimensions of performance.
4. Feedback

Feedback is a key tool to identify strengths, areas for development and individual development measures. We will assist you in effectively implementing self-directed feedback elements as part of your internal talent process.
5. Development & Orientation Centers

By definition, talent identification is about future growth and development potential. An accurate identification of your talents is only possible if external diagnostic experts work closely with internal HR experts and managers as well as the talent candidates. It makes little sense to classify talents using seemingly objective procedures as if they were test objects. We involve participants in our approach, paying attention to how they understand assignments and the effect they want to achieve. For this to be possible, the exact requirements and goals must be known - there is no "hidden agenda". The talents can understand how the observers' assessments come about and can also actively contribute their own perspectives. Regardless of how the feedback turns out in the end, talents emerge from the process feeling empowered and motivated and know how they can further qualify themselves in order to be able to pursue their professional ambitions consistently and in line with the company's goals.
6. Development Conferences

Development conferences provide an overview of talent across the entire organisation and define a joint understanding of requirements, shared responsibility for talent scouting, development and how to retain talent in the organisation, ideally increasing the "permeability" of business units in terms of talent development.
Discover more topics that may interest you: