Team Building
How can we (re)ignite the excitement for collective performance in the team and improve cooperation between the team members?
How can we realign our team? Who will take on which role? Which roles are missing? What issues are repetitive and disruptive to performance?
How can newly formed teams quickly become effective?
Through joint development processes, teams can be given vital support in developing into a productive, proactive unit and a kind of "home" in the organisation.
A particular challenge for teams are complex tasks and longer-term projects. It is not the expertise of individuals that determines success or failure, but the interaction and optimal use of the entire spectrum of knowledge and skills of all the team members. High performance teams are based on the following levels:
High Performance Teams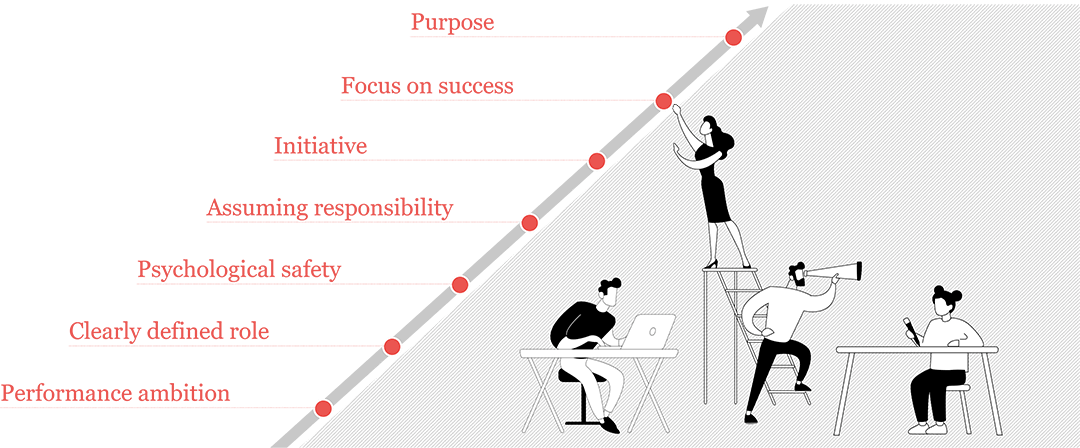 The 4 steps to 5P team building
1. Definition of the assignment

We define the topics and goals and conduct individual interviews to learn about the different perspectives and perceptions of the team members and managers. Sometimes it is helpful to additionally use reflection tools or online surveys.
2. Design

Based on the individual perspectives of the team, we develop an overview of the challenges, both content-related and social, and an effective approach. The time frame (and organisational framework) is defined together with the client based on the current situation and the goals.
3. The workshop itself

We design an individual workshop setting that ensures intensive dialog, reflection, fun and structured work. Sometimes the focus is on content and cognitive approaches, at other times it makes sense to remove the team from their daily routine in order to stimulate new ideas and create openness and trust. We combine classic workshop methods with creative methods, incorporate nature as a working space and, if necessary, also bring in experts for outdoor elements.
4. Follow-up

To ensure the transfer into everyday practice, a follow-up meeting takes place after 6-12 weeks, for which clear implementation goals are defined in the workshop.
 We work with you and your team in a process- and goal-oriented manner on the following topics:
Common focus
Setting priorities
Definition of roles
Definition of expectations (performance)
Feedback
Analysis and development of communication patterns
Forming opinions and making decisions
Emotions and their effects on the team and the environment
Conflicts/Tension in the team
We use cognitive and analog methods, work with experiential tasks, invite reflection and support the transfer into practice. We use potential analyses and reflection tools as catalysts for better understanding and joint development.
We like to integrate nature and movement into the team development process, while focusing on the effectiveness of transfer into daily collaborative practice.
Typical situations in which team development measures are required:
Team building after changes in staff
Team building before/after content-related or organizational changes
Team building in the event of conflicts and tensions
Cooperation workshop with other teams
Retrospectives and reflection workshops
Team workshops for annual planning
Discover more topics that may interest you: